We live in a hyper-competitive era, in which change happens in the blink of an eye with new technologies, and at the heart of this is Artificial Intelligence (AI). Cutting-edge technologies like AI, predictive analytics, machine learning, and other digital disruptions are transforming the business models, processes, and customer experiences across every industry. Organizations increasingly find themselves encountering moments of existential change. In this landscape of digital disruption, leaders need both the tools and skills to integrate AI into their overall business strategy.
AI which was a buzz a few years back, is unquestionably a reality now, with every industry looking for ways to leverage the benefits it could reap in the long term. Whether you're running a business focused on retail, banking, construction, or anything in between, the list of companies hiring the best AI and data scientist teams to help their business success is growing every day.
However, implementing and deploying AI / ML models is not easy, and the risk of failure is very much there. Sure, some companies have increased their bottom line by increasing their AI investment. However, a solid methodology is needed to reduce this risk and enable companies to succeed.
ModelOps for Rescue
According to a leading analyst firm, approximately half of the AI models developed never actually make it into production. If you want to understand why and prevent the waste of IT teams, and data scientists' time, and other resources from happening at your organization, then it is vital to understand the concept of ModelOps.
With the modern software development methodology, DevOps helps us with software improving collaboration across IT teams, accelerating deploy cycles, and delivering better experiences. Similarly, ModelOps is helping enterprises to operationalize models (AI, machine learning, traditional models) by providing reliable decisions, and adhering to all regulatory, compliance, and risk requirements and controls.
ModelOps is a competency that focuses on putting models into continuous production 24 hours a day, seven days a week. ModelOps assures quality outcomes by enabling enterprises to transfer models as rapidly as possible from the lab to validation, testing, and production. While monitoring continually for early symptoms of deterioration, it allows you to manage and scale models to match the business demand.
Companies have a stockpile of models that are sitting unused and degrading — contributing no value to the business. We refer to this as model debt. All models' performance degrades if they are not maintained regularly. Just like automobiles, frequent maintenance guarantees the optimal performance of the models. Model performance is determined not just by the model itself but also by data, fine-tuning, regular updates, and retraining.
ModelOps can be defined as a combination of culture, policies, practices, and technologies that are critical to an organization's ability to operationalize AI, ML, and analytic models at scale, growing and enhancing model governance and performance at a faster rate than existing/homegrown methodologies. Organizations may use AI-based decisions to better serve their customers, secure their operations, and compete more effectively in their marketplaces owing to this speed.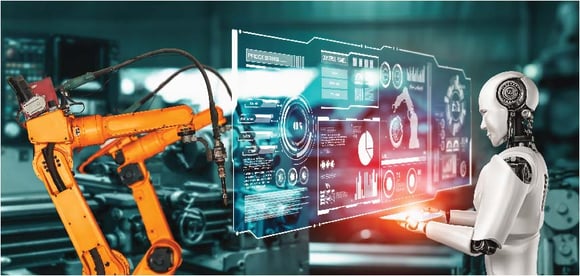 Revealing the Value of AI in Business Applications with ModelOps
The path taken today could impact the ability to add new functionality in the future or require starting from scratch. To address the different parts of the pipeline, control costs, and avoid vendor locks a right mix of tools and skills is required.
ModelOps will be one key to unlocking value with AI for the enterprise. If you look at different stages of the AI pipeline – data wrangling, data management, model training, model management and deployment, and business applications, ModelOps is the connective tissue. It links the distinct pieces of the pipeline to deliver the right value through business applications.
Also, in a recent report by Forrester, it has been mentioned: "Your AI Transformation is doomed without ModelOps". ModelOps is of course the fundamental means that enterprises need to deploy, monitor, and govern AI/ML Models. Companies that are not ready to adopt ModelOps risk having a difficult time keeping up with their race and certainly won't exceed it or lead. By providing a shared tool to track and manage AI assets across the organization business lines, we can:
Reduce risks associated with shadow projects that are managed outside, and without the knowledge of the IT department.
Reduce redundancies leading to better allocation of resources
Increase reusing of models, by creating immense value to the business
On the other hand, CIOs and IT Operations working with various business units are responsible for establishing and implementing a ModelOps platform that meets the needs of the organization. By providing tailored information and reports to business leaders, ModelOps solutions address one of the most crucial issues with AI adoption today. This transparency into AI usage across the enterprise provides a clear explanation for models in a way business leaders can understand.
And this is not only true for highly regulated industries such as banking services. According to an article by Stu Bailey on Forbes, "Artificial Intelligence is being used to automate decisions across a wide range of operations and industries, new and perhaps less obvious vulnerabilities are emerging." Automating and orchestrating all aspects of the model life cycle ensures reliable model operations and governance at scale.
To understand the world of ModelOps integrated with AI through the lens of use cases as it will help you move past the Last-mile AI Operationalization Challenges with ModelOps better, join our Virtual Fireside Chat – "Achieve Autonomous AI for the Enterprise", on 18th November 2021.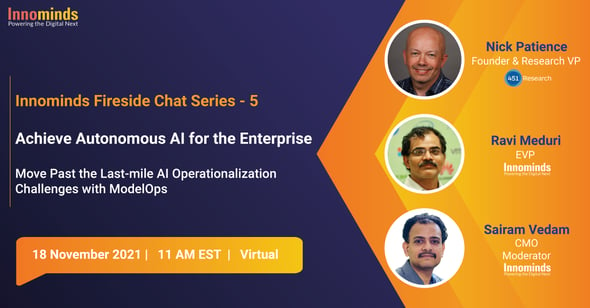 Panelists include Nick Patience - Founder & Research VP, 451 Research, Ravi Meduri – EVP, Innominds, and the virtual session is moderated by Sairam Vedam - CMO, Innominds.
To join the virtual Fireside chat